Etzbal works with a variety of artisan groups around Guatemala. Our main goal is to aid their economic and personal development, not only by providing work but by supporting their aspirations and helping them overcome different obstacles.
We are firm believers in fair trade. We provide loans for our artisans to buy machinery for their workshops or building materials to improve their living/work conditions. Most of our artisans work where they live and keep the business in the family.
At Etzbal, teamwork truly makes the dream work. When you glance at one of our products, you are watching a collective effort from around the country to bring our most cherished traditions to life.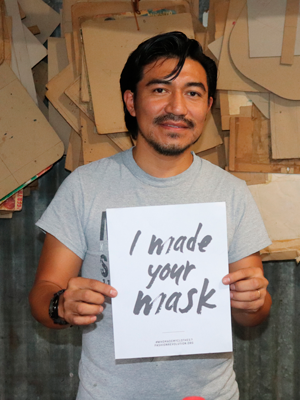 Abel is our main collaborator in the production of haute couture bags and accessories. His team excels at patterning and assembling the pieces for the manufacture of different products. In 2020, his leather goods workshop guided us through the COVID19 pandemic to prepare masks and accessories. As a company, we had to innovate and diversify our products together with his team.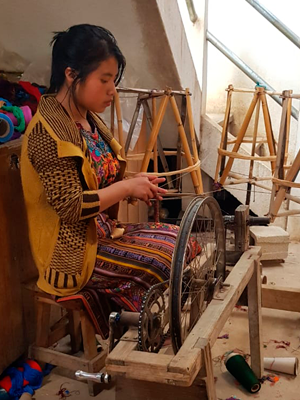 This small family group of artisans specializes in making handmade products. The mother of this family is considered the leading artisan, and the father specializes in handling fine leathers. The other members highlight their experience in the assembly, the careful craft of the stitchings, and the final finishing of the products. Their artisan creativity allows them to make this their primary source of work.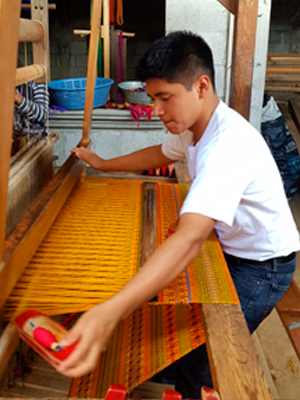 The group is made up mainly of artisan women from indigenous communities. They are responsible for making beautiful Mayan textiles, which are woven on foot looms with cotton fibers. A part of them is young artisans interested in preserving the Guatemalan traditions that have sustained their families for decades.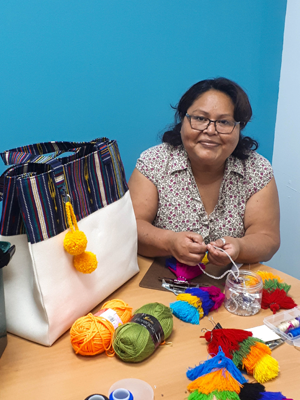 Guatemala City, Guatemala
We collaborate with independent artisans in Guatemala City in the elaboration of our accessories. Many seek to contribute their creative and artisanal knowledge in making pompoms, tassels, and details that adorn handmade products.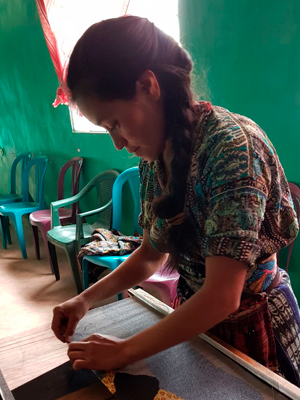 In Los Encuentros, Sololá, we work with a cooperative of distinguished indigenous women with the ability to craft colorful beaded canvases. Adiva leads this group, and their leadership and creativity have allowed them to create tools to optimize their processes from simple local materials. For example, they have built their miniature version of a loom with scraps of wood and combs. The result is dazzling pieces and canvases full of color and textures made of beads.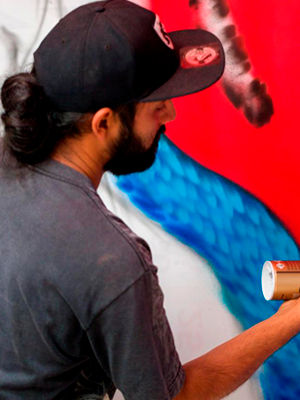 Guatemala City, Guatemala
We have collaborated with Woset García, a great Guatemalan muralist and creative graffiti artist. He exposes our "Mayan Nahuatl" line with an incredible mix of urban art techniques, graphic design, and freehand illustration. His creative abilities and our extensive knowledge of Mayan cosmovision and symbolism make our design canvas unique.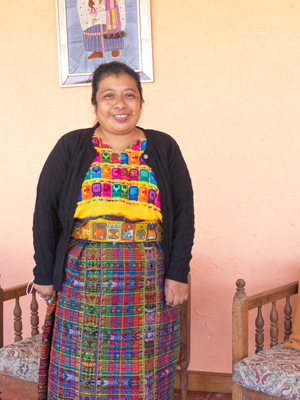 The training center for working women Ixoqui', through comprehensive training, to accompany rural women, as an agent of change in the sustainability of their family and the development of their community through empowerment, leadership, and productivity.
We have collaborated with the Ixoqui' organization to produce pieces in natural fibers for our latest collections. Their ability to handle pine fibers, together with our designs, achieves truly authentic handcrafted creations.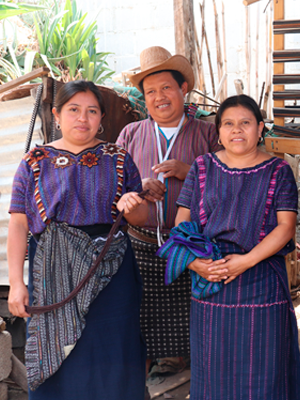 San Antonio Palopó, Sololá
Small family businesses have been a source of inspiration and creativity. Lucas and his family are exemplary role models for carrying out their work with skill and passion. His skill at the foot loom achieves incredible results on handcrafted cotton fabrics.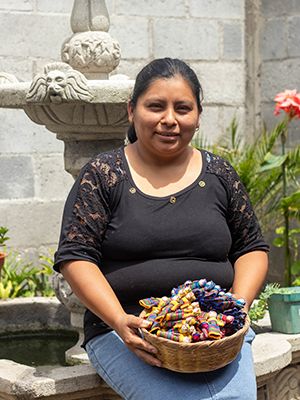 Aura is our primary collaborator to our latest "No Worry Ornaments" collection. We designed them based on the famous "Muñequitas Quitapenas" tales to develop these cute Christmas decorations made by hand with natural fibers. Her skill and passion for our Mayan culture make her an authentic Guatemalan creator.