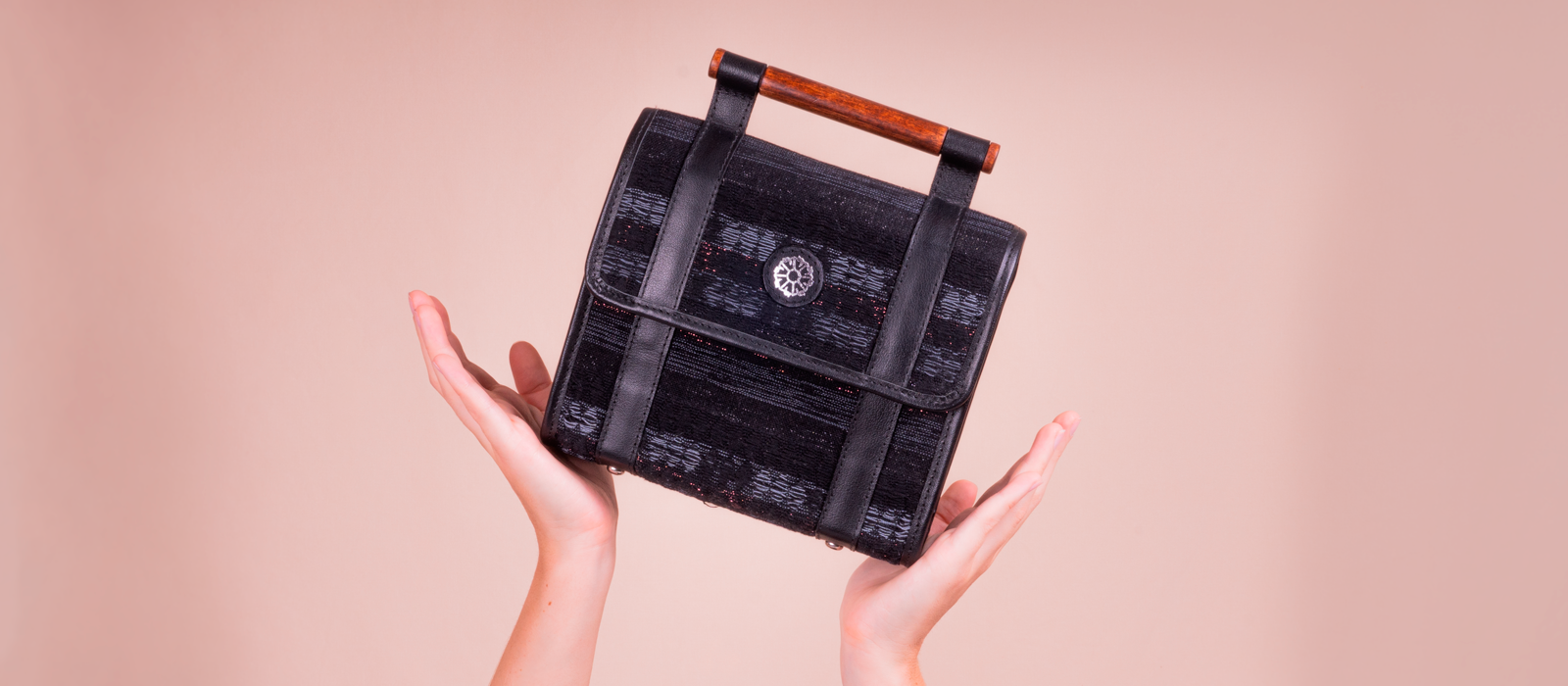 Etzbal is a proudly Guatemalan company, founded to integrate our rich cultural and traditional heritage of fabrics with current trends in the world of fashion. We create contemporary leather handbags and accessories handmade in Guatemala, co-creating together with the passion, creativity, and skill of artisans, artists, and design students.
As a company, we are extremely proud of our roots. Therefore, we focus on sharing this ancient art to transcend borders. We aspire to be a source of work for families and organizations that want their masterpieces to be appreciated in the modern world.
Our goal is to contribute to the development of our country's art by providing artisans in disadvantaged areas with job opportunities and training in hopes of contributing to their economic stability and professional growth.
The pillars of our community are our artisans, who have inherited decades of knowledge in the art of weaving natural fibers on a backstrap or standing loom. This tradition has been passed down with pride from generation to generation within artisan families.
The uniqueness of each fabric and distinctive techniques of each artisan create original designs that are rich in history and cultural innovation. This fusion, combined with the professional finishes of the artisans, is what allows handmade products to be competitive in a market that demands outstanding quality at an affordable price.
In August 2014, two Guatemalan businesswomen created a joint venture with the desire to be a source of job opportunities for underserved sectors. This trip began with a line of home decoration products, which were displayed and decorated with products made by hand by Guatemalan women and men. It was the vibrant colors of these uniquely patterned products that adorned the exhibit that ultimately captivated our clientele's interest in the works of art handcrafted by our Guatemalan artisans.
In the search for the necessary resources for this new venture, we found the help of a highly trained advisor in the creation and manufacture of bags and accessories. Thanks to Luigi Morello, our dearest mentor, we were able to develop new products, explore various techniques and play with different materials. It changed the course of our business for the better!
Currently, we work with various communities, associations, groups, small businesses, and families of artisans, in creations made by hand in the most rural areas of the country. We select each of the textile fibers, high-quality leathers, and fittings to be made and assembled by our artisans, and present the handmade products that we proudly offer.
We have seen first-hand the amazement that this type of contemporary art causes, and the job opportunities it offers to many Guatemalans.
We promise to continue to present to the world our immense admiration for Mayan traditions and culture, attention to detail in our designs, and support for our people.
We invite you to watch our institutional video and learn more about our processes.